E-Commerce Hosting Options
From PrestaShop, an easy-to-use e-commerce solution to WooCommerce for WordPress, we have the right tool to get your online business up and running in no time. All E-Commerce Hosting Plans come with Free SSL certificate, SSD's, generous space and broadband, multiple versions of PHP, multiple databases, robust email capabilities and much more.
Dedicated Servers with FREE SSDs
Our top of the line Linux Dedicated Servers can be configured to fit the exact needs of your enterprise. We have single processor and dual processor dedicated servers included with FREE SSDs that give customers a scalable, flexible and reliable option. Our fully managed custom dedicated servers come installed out of the box with LAMP stack.
Managed SSD VPS Hosting Powered by the Cloud
Our state-of-the-art Linux SSD VPS-Cloud Hosting servers come equipped with an arsenal of features, including a cloud-powered infrastructure built for real time redundancy, free server management, a free cPanel license, CentOS and LAMP stack, live-state snapshots and much more.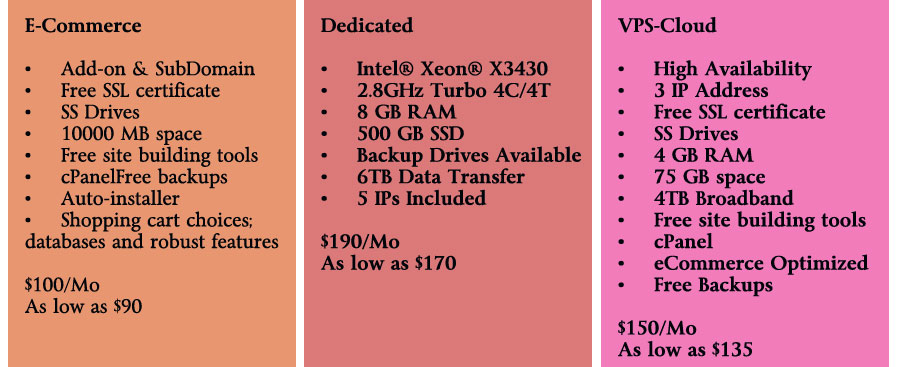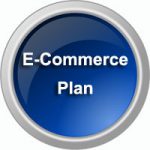 $100/mo
($90 discounted price when paid for the year)
A Free SSL Certificate Free for 1st year (a $99 value); No Setup Fee; 10000 Space (MB); 10 FTP Accounts; 60 Email Accounts; 25 Email Lists; 10 Databases; 5 Sub Domains; 10 Parked Domains; 10 Adddon Domains; 100 Hourly Email by Domain Relayed; 50% Percentage of failed or deferred messages domain may send per hour
$190/Mo
($170 discounted price when paid for the year)
Intel® Xeon® X3430; 2.8GHz Turbo 4C/4T; 8 GB RAM; 500 GB SSD; Backup Drives Available; 6TB Data Transfer; 5 IPs Included
$150/Mo
($135 discounted price when paid for the year)
High Availability; 3 IP Address; Free SSL certificate; SS Drives; 4 GB RAM; 75 GB space; 4TB Broadband; Free site building tools; cPanel; eCommerce Optimized; Free Backups